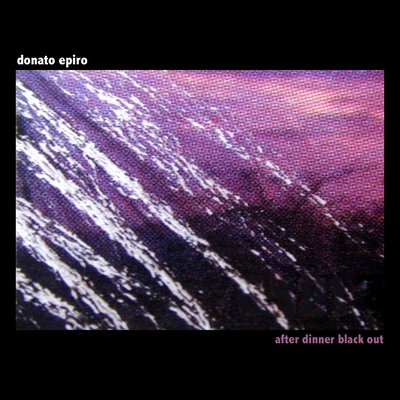 Donato Epiro - After Dinner Black Out
year:

2011

catum:

SFR011

genre:

Experimental, Musique Concrète
Here's a wonderful gift by friend Donato Epiro who donates to Second Family Records and his listeners his first previously released album.
After Dinner Black Out sits fairly well within that region which used to be called "musique concrète", as it mixes acoustic and electronic instruments with found sounds.
Its abstract nature requires focus, further plays revealing carefully considered and structured movements with much use of the stereo spectrum, tone and dynamic within the percussion, synths, occasional voices and lots more. You could think of someone who's about to pass out and sees life scenes flash before his eyes… No room for irrelevance, redundancy, and no room for needless repetition: each moment counts and adds as new spectrums arrive. No fear of making changes or destroying the image, and still, somehow, there's a harmony, an easy collage-like give and take.
Composed and recorded by Donato Epiro
Previously released on Akoustic Disease Records (March 2007)
Tracklist:
1 After Dinner Black Out 18:20